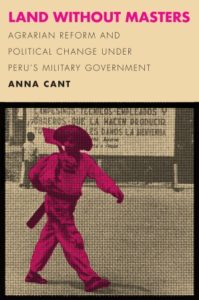 Describe your book
Land reforms of various kinds emerged over the course of the twentieth century and were particularly prevalent in Latin America during the 1960s and 70s. The basic problem was that large quantities of land were held by large estates, while the majority of peasants had either no land or a very small amount. Peru's 1969 agrarian reform is unusual because it was introduced by a left-wing military government, at a time of right-wing dictatorships across the region. It was brought in by legal decree in 1969 and redistributed around 45% of Peru's agricultural land from large landowners to newly created peasant cooperatives. My book takes a fresh look at the political and cultural changes that took place during the agrarian reform, using often neglected sources such as posters and pamphlets, as well as oral interviews. The book argues that the state interventions and discourse that surrounded the agrarian reform were as impactful as the transfer of land itself. This was not a neutral process overseen by technocrats in distant government offices, but one that was actively promoted through state interventions in local politics, education and mass communication. Across the country, peasants were encouraged to imagine a more socially just world in which their life chances would not be constrained by the will of the landowner. This campaign has been touched on by others but never treated as an important story in its own right. My book reveals the dynamics of this campaign at local, regional and national levels, showing how it opened up new political debates that in turn transformed Peru's political culture.
Why did you decide to publish it with a university press?
I wanted my book manuscript to benefit from the specialist editorial experience and distribution networks of an academic press. University of Texas Press has an excellent reputation for publishing scholarly work on Latin America. It was also important for me to publish with a US academic press since Latin American Studies is a much larger field in the US than in the UK.
Do you enjoy the writing process?
I find the best way to process research material is by writing about it, so writing first drafts is often quite stimulating and thought provoking. The harder, more tedious work tends to come in the multiple edits and re-writes that follow!
What is your favorite book? Why?
'A Suitable Boy' by Vikram Seth. It is beautifully written and completely immersive. As an historian I also find it has a lot to tell us about the connections between past and present, the legacies of colonialism and the relationship between urban and rural society.
What is the best piece of advice anyone has ever given to you?
You will never have as much freedom as a researcher as you have when conducting your doctoral research, so take full advantage of it. I had these words ringing in my ears as I embarked on what at times felt like quite harebrained missions to track down archival material and interviewees in Peru.
What piece of advice might you give to young academics looking to follow in your footsteps?
Don't be discouraged by (often older) academics who tell you your research project has already been done or is a dead-end. I find this sort of gate-keeping a really negative and surprisingly common aspect of academia. Be bold and have the courage of your convictions!
Who inspires you?
Alma Guillermoprieto's writing on Latin America is inspiring. She combines a journalist's eye for a good story with a deep and nuanced understanding of Latin American politics and society. I always tell students who have no prior background in Latin American history to read her essays.
What's next?
My postdoctoral research project was a study of radio education in rural Colombia during the 1960s and 70s, using the rich archives of a Catholic radio initiative called Popular Cultural Action (ACPO). In my current book project I take up the history of religious radio on a bigger scale, examining its development in three different Andean countries across a longer timeframe. The book will reveal the political struggles that have taken place over what radio is for – to educate, to entertain, to indoctrinate, to mobilise? – and examine the particular importance of radio in rural Latin America. Among the questions I aim to answer are: What role has radio played in identity formation? In what ways and with what effects has radio connected geographically remote populations to global events?
Anna Cant is an assistant professor of Latin American history at the London School of Economics and Political Science. She is the author of Land without Masters (2021), published by the University of Texas Press.