8th December 2020
First of all, I'll give a bit of context, as this day in my life is not what I would have called a "regular day" 10 months ago. I've given my thoughts on the changes this year in italics.
I'm a publisher representative for Benelux, but I'm based in the UK and we have just finished our second COVID-19 lockdown. Government advice is to work at home if you can, so I'm currently based in my dining room.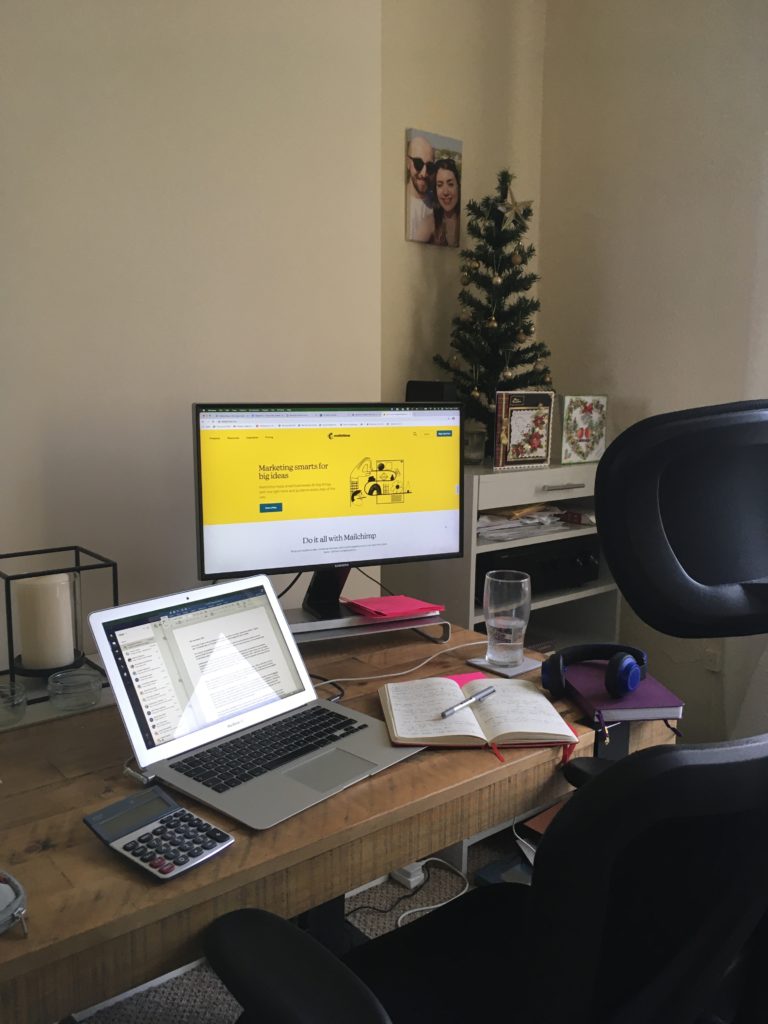 Looking back, I think my team was in a particularly good position to transition into lockdown, compared to many businesses. We're used to working on a laptop from hotel rooms, train carriages and airports, so my home – with its extra monitor and new ergonomic chair – feels like a step up from working whilst travelling, even if it's a step down from the office. (That being said, I have an enjoyable extra 20 minutes in bed now that I don't commute!)
When I head downstairs for 9am, the first thing I do is check my emails. I like to joke that my life is ruled by my inbox, but it's true! One urgent order can derail my plans for a large chunk of the day, but it's worth it when you pull off the impossible! (I'm looking at you, any bookshop who has needed books for an event in less than a week!)
About an hour later, I'm interrupted by a Teams call from my colleague, Amandine Thomas-Bigattin. She has been in the unfortunate position of taking over representation of our publishers in France during 2020, and has a question regarding textbook recommendations for an academic. (Thankfully video calling and instant messaging allows us to stay in close contact akin to sitting beside each other in the office, so the handover has been pretty smooth and she's doing a great job. But I don't know what we would have done without screensharing!)
The conversation inevitably moves on (and I get to say hi to her cute little dog, Olive, who is very confused by the disembodied voice calling her name!) Amandine updates me on a cross-territory marketing campaign that she's working on and we decide to include a few extra products in the email. We've not been able to make any sales trips this year, so our marketing activities to bookshops, librarians, library suppliers and academics have become increasingly important. Marketing campaigns are one of my favourite aspects of the job though, so I've enjoyed the extra time spent in MailChimp!
I will now point out that our team represents publishers across Benelux, Germany, Austria, Switzerland, France and Italy. While we are each responsible for print sales in our own territories, there's a lot of work to be done, so we share some time-consuming tasks between us. This will be relevant in a moment:
Turning back to my emails, I whoop with joy! We've successfully won another digital EBA library order in Germany for World Scientific Publishing! This has been a group effort with Frauke Feldmann, my teammate in Berlin, Yee-Hong Khoo from World Scientific and the fantastic Klaus Tapken from Missing Link. I send the order for processing, and note it in my records.
This year has been fantastic for digital library sales, as the pandemic has forced students and researchers off campus, putting pressure on libraries to provide remote services. We've been working particularly hard to promote the wonderful digital resources that our clients provide and, in many cases, digital revenue has surpassed decreases in print sales. However, it is also a concern for me as we don't represent digital products for all our clients and we've noticed a gradual decline in print sales over the past few years.
Speaking of digital, I decide to spend some time preparing for an upcoming call with Charlie Woodhead, Digital and Logistics Manager at Mare Nostrum, who is working to increase CAP's digital sales. We'll be talking about my experience selling digital products into my territories, so I'm preparing an overview of the purchase models and strategies I use to sell to libraries and generate interest from academics.
It's then back to my emails for a while, replying to and recording information from inspection copy feedback questionnaires.
At 1pm I'm lucky enough to have lunch prepared for me by my boyfriend. We fit in an episode of Breaking Bad, which I'm finally hooked on after first trying it years ago. I ultimately regret watching an episode when I can't follow it immediately with another, but my hour is up!
Along with other emails, I've received a request from George Banbury, CAP's Sales Manager. He wants to know which new/forthcoming CAP title we would list as our essential read for 2021. It's a difficult task to pick just one, but I eventually make my selection. I won't spoil the surprise, which will be revealed soon, but I will take the opportunity now to give honourable mentions to other titles:
I've been researching how to be more environmentally friendly and reduce waste (to questionable success, as my degradable bin bags keep splitting, but my bamboo toothbrush is a winner!) Things Worth Keeping: The Value of Attachment in a Disposable World from the University of Minnesota Press caught my attention as a useful book to help 'balance our consumerist and ecological impulses.'
Stories from Trailblazing Women Lawyers: Lives in the Law from New York University Press was also on my list. I admit that I have only recently heard of Ruth Bader Ginsburg but, following her death, I'd like to find out more about the hardworking women who had to break through the glass ceiling to change the legal profession and fight for gender equality in the US.
I then spend some time analysing the CAP sales figures for an upcoming 2020 summary email I will send to my customers. I'm planning to arrange video calls to discuss the figures and 2020 in general, as I've not been able to visit them at all this year. I've really missed the face-to-face meetings and opportunity to take customers through the catalogues. It's a challenge to do this virtually, but I have been able to use digital material to make sure customers receive information. Over the years many publishers have reduced their marketing material, but it's important to still have subject catalogues for my work, so a huge thank you to the CAP marketing team, and indeed all other marketing personnel who produce sales materials – much of my job would be near impossible without you!
I pop back into my inbox to check my emails, processing and recording a CAP adoption order in the Netherlands, and then take a moment to admire the cute dog passing my window.
It's nearing 4pm and my emails should remain quiet for the rest of the day, so I put on some Christmas tunes and spend time researching Sports Science courses in Benelux. I'm updating my "database of knowledge" in Podio to prepare for Human Kinetics campus calling next year. Campus work for all clients has been… let's say "different" this year, as most academics focussed on moving their courses online, rather than finding new textbooks during term 2 and 3. We've been providing just as much customer service and ebook order processing as new textbook recommendations, but professors seem to have finally adapted to the new ways of teaching (and if they haven't, we're recommending the new Distance Learning Playbook for College and University Instruction from SAGE.)
Before I know it, it's after 5pm and I've not received any urgent emails, so I send a goodnight message to my team and log off.
Today's a Tuesday, so I wistfully think of the Zumba session that I would have gone to if it wasn't for Covid-19. Other people are once again happily visiting the gym, but I much prefer an intense dance session to get my heart pumping! Instead, I'm going to pick up my paintbrush and work on the watercolour Christmas cards I somehow thought would be a good idea to make last-minute. If there's one thing 2020 has been good for, it's been the time it's given me to re-learn how to use this tricky medium. It's been inspiring to see people start hobbies to occupy their time productively during the pandemic.
Writing this, I compare my "new regular" to pre-pandemic days. From working at home, to being unable to visit customers, and shifting product focuses, the pandemic has hugely altered my way of working. But 2020 seems to be ending much more positively than I expected during spring. Not all print sales have dropped, and digital sales across the Mare Nostrum territories are strong.
However, I do worry for the wonderful independent bookshops that I have come to know and love over my years as a rep. Shakespeare and Company in Paris – a favourite from my time as rep for France – have asked for help from their customers this year, and Athenaeum Boekhandel in Amsterdam have set up online personal shopping while their stores are closed and use bicycle couriers for same-day delivery. Hopefully our customers will make it to the other side of the pandemic and consumers will heed the call to buy local that seems to be sweeping across social media in the run up to Christmas.
Looking on the bright side again, I have been working from home for about 9 months, but I've seen most of my team every single day. Many of our work practices have altered, but I can't help but think that the changes will hugely benefit us moving forward, not just during the pandemic. So I guess that's two things that 2020 has been good for!
And today, the 8th December 2020, the first person in the UK has been given the Pfizer COVID-19 vaccine.
Update 5th January 2021: we're back in a national lockdown, I still haven't been to Zumba and I didn't get to visit my family at Christmas, but my cards turned out well and we won more EBAs!
Lauren Keane is Senior Sales and Marketing Executive for Mare Nostrum.