I originally wrote this 'Day in the Life' blog piece in February 2020 and thought no more of it. At the time Charlotte had been building up a body of material to release on CAP's new blog over the coming months, so when she sent it over to check for edits, I had a quick skim through to see if it required updating. However as I reminded myself of the content, it quickly became apparent that the daily reality of office life was no longer even close to this rather light hearted attempt at condensing all the finer things in life into just one day. If anything I found the post rather depressing as it underscored just how dramatically life has changed for the worse during this annus horribilis.
But whilst it is certainly true that this strange and unwelcome reality of 'the new normal' has reduced my average day in so many ways, I'm not inclined to rewrite the post. To be clear, I've always been an optimist and whilst it is true that many parts of modern life may never return to how they previously were, I remain hopeful that at some point in the future most of the below will continue as before. Moreover I am of the opinion that whilst the catalyst for our adjusted lives has been horrific, some things may even evolve for the better.
So instead of rewriting this 'Day in the Life' piece – which captures quite nicely parts of my working life pre-Covid – I thought I'd just provide a few updates on what I wrote in February. These are included as an addendum at the foot of the original material.
Here's hoping that 2021 presents us with brighter days.

I'm lucky enough to live close to the office and usually get in around 7.30am to catch up with emails that have come in from the US, go through yesterday's orders, and plan my day ahead. I enjoy this time and can get through a lot of work when I'm fresh and the office is quiet.
Then as the team start to arrive I'll nip out to the gym around the corner for a quick 45 minute class run by ex-army boxer, Jimmy Profitt. Jimmy runs a company Box-Fit class for us but today it's Super Circuits and his well timed motivational howls keep my pulse racing at the required level! Over the years I've found that exercise keeps me happy and relatively stress free and anyway I need to stay in shape as waves will hit the North East Coast this weekend. I've surfed for nearly 30 years but I still get really excited by the prospect of pitching myself against the freezing cold, chocolate brown surf of Runswick Bay, Saltburn or Staithes. In the Summer when daylight permits, I'll go surfing before work and when it's warmer we will try to have another office surf day out or do fossil hunting along Yorkshire's Jurassic Coast.
I'm starving by now so I'll pick up a bacon and egg sandwich on the walk back to the office to keep me fortified for the CAP marketing meeting. As our Marketing Manager, Rachel Shand, tucks into her bowl of porridge and fruit I'lI feel guilty about my breakfast choice, but I'm soon thinking about other things as Rachel runs me through CAP's marketing work and plans for the next few weeks. We then discuss the positive impact of the systemic changes we introduced 18 months ago and Rachel shows me some statistics and an example of a biannual press marketing report to back this up. I am constantly amazed by the quantity and quality of the marketing team's output. Conferences, book launches, reviews, publicity. Are there still only 4 people in the CAP marketing team or has Rachel been spending some of her budget on freelancers!?
When we finish David Thom, our Data, Inventory and Systems Manager will pop his head around the door to discuss a price reduction, some metadata frustrations and the excellent red wine he opened last night. David and his team are absolutely crucial to the smooth running of both the CAP and the Mare Nostrum divisions and I make notes on any concerns he raises and we then decide how best to approach them. Then I'll nip upstairs to check in with George Banbury, who runs the key accounts and APAC across the business. Having managed Perseus Distribution in the UK George has a great deal of experience and today he wants to talk about the parameters of a university press sales analysis project we are working on. Then I might spend ten minutes marvelling at the work Sam Thornton is doing on a publisher pitch document. Sam is an Account Manager responsible for some of Mare Nostrum's Distribution clients but I think that he secretly wants to be a designer.
We get quite a lot of visits from client publishers – especially Mare Nostrum division publishers based in the UK – and today Boydell and Brewer's International Sales Director, Michael Richards is up to walk the sales team through Boydell's Autumn list. The team are conscientious in their preparation for the meeting and Francesca Pollard, Mare Nostrum's Sales Manager, gives Michael feedback on good and bad territory performance before outlining marketing plans for the next six months. To thank Michael for making the trip we take him out to one of my favourite fish restaurants and a Harrogate institution – The Drum and Monkey. The Maitre d' embarrasses me by telling Michael that he knows what I will eat and we then tuck into dressed Whitby crab and Dover sole in caper butter, whilst discussing the respective merits of distributors, agents and vendors.
After lunch I'll meet with our Business Manager, Sally Evans to see where we are with certain projects we have planned for the year. Sally has just managed the successful transition from our old office to the new one but we like to keep busy, so we are now planning a 360 business process automation project to look at operational ways in which we might reduce administration and improve processes.
We then move onto charity discussions. Following on from our successful charity fundraiser a couple of years ago when many of the team walked and ran the Yorkshire Three Peaks we are planning to start a more sustainable charitable initiative. I am very keen on using the business as a vehicle to help mentor young people from less privileged backgrounds and we are looking into how to achieve this goal. With university education costs at a record high we are also looking at providing apprenticeships to local school leavers and are working with Leeds University to take advantage of government funding for SMEs. So far the government has funded one of our team to go on a Senior Leadership MsC at Leeds University but ultimately I want to be able to hire school leavers and have them study for an undergraduate degree whilst working for us.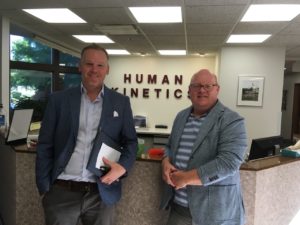 We then have a full team meeting to discuss the onboarding of two new client publishers. One is a Mare Nostrum client – Human Kinetics, and one a CAP client – University of Notre Dame Press. It's a detailed and complicated meeting with wide ranging discussions and interventions from most team members, but we decide collectively on our action points and feel satisfied that everything is moving forward satisfactorily. The Human Kinetics CEO and International Development Director are coming over from Illinois later in the week so the Mare Nostrum team then break off to ensure they are well prepared.
As the day draws on I'll receive a note from our accountant regarding various invoices to pay and I'll worry about the P&L and spend time looking at turnover, pricing and organisational costs. If things feel as if they are in order, I might start looking at potential new publisher clients, catch up on the latest in academic publishing via Scholarly Kitchen, or read a chapter of a business book. I've just finished the excellent No Bullsh*t Leadership by Chris Hirst which was an FT business book of the month and has been shortlisted for the Business Book Awards 2020. I'm now working through one of CAP's business bestsellers – Stanford University Presses' Fast Forward by Julian Birkinshaw and Jonas Ridderstrale. The approach of each book is very different but they both offer fascinating insights on the importance of intuition, culture and decisive execution.
As we grow my biggest challenge is ensuring that the talent, intelligence and personalities within the business blend effectively to make the team flourish and function well. We will all spend the majority of our lives at work and I am very keen on helping build the right environment and culture to keep the team happy and productive. This objective is not to be taken lightly and I recently worked collectively with team managers to put together a 'behaviours' guide for all of us. These 'behaviours' stem from values we believe in such as the importance of collaboration, sharing, hard work and humility. Crucially we agreed that these weren't my 'behaviours' but the team's 'behaviours'.
I usually leave the office quite late but I'm not complaining as I love this business and it feels like a privilege to be involved. If I'm not required straight home I might go for a quick Negroni at District and tonight I'm meeting with a teacher friend there to pick his brains about career development within schools which is linked to our charity initiative.
Then it's home to the family to hear about their respective days. My kids are 12 and 8 and have full days with lots to tell about lessons, teachers and sport. My daughter is a first-rate chatterbox so there's little time for conversation, but once we've forced them to do their homework and got them off to bed, we'll prepare something simple to eat, my wife might open a bottle of red wine and we can talk about her day. Afterwards I like to relax watching bleak Scandinavian crime drama like Stockholm Requiem or read Jo Nesbo but the darkness of the genre doesn't disturb me and I fall asleep quickly knowing that I'm a lucky guy.
Addendum
First and foremost our Business Manager Sally Evans has done a wonderful job of making the office Covid secure. She has worked very hard to ensure that the business adheres to government guidelines and check that everyone within the team is satisfied with the distancing, sanitisation and rota system put in place.
This has enabled us to fully reopen the office this month. Yes, the rota system means that at any one time only a maximum of 12 of our team of 20 are able to be physically in the office, but our familiarity with Teams and Zoom and the collaborative nature of the group mean that we can combine a physical and digital presence very effectively.
All team members now work 2 days a week from home and we plan for this to be permanent from now on.
No publisher has visited our office since March but our friends at Sage Publishing are threatening to send up a small delegation before year end!
Fortunately all of the bars and restaurants mentioned below have reopened and I am proud to say that I have visited them all at least once – including the local bacon sandwich shop which receives a daily order. I have taken the government exhortation to 'eat out to help out' quite literally.
We have just advertised an apprenticeship in Supply Chain Leadership to support our Data, Inventory and Systems team. This is a worthwhile UK government initiative enabling businesses to hire employees who can combine work with study. We pay the apprentice a full time salary and the government pay for their degree funding, meaning that the successful candidate graduates with plenty of work experience and no debt!
I've moved on from Scandi noir. To be quite frank there's been enough bleakness out there for the past 6 months. I'm currently reading my father-in-law's first book. Sembrava Ancora di Giocare. It's a beautifully written, poetic memoir about growing up in Sardinia – published by Edizioni Clichy. Sales have been ticking over quite nicely and my wife is currently translating it into English. Who knows – perhaps I can persuade one of the UPs to publish it!
David Pickering is Managing Director of the Mare Nostrum Group (Combined Academic Publishers and Mare Nostrum).