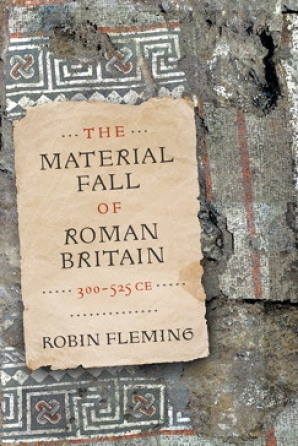 The Material Fall of Roman Britain, 300-525 CE
Published by: University of Pennsylvania Press, Inc.
296 pages, 152.00 x 229.00 x 0.00 mm, 22 b/w
ISBN: 9780812252446
Published: June 2021
£36.00
Buy
Although lowland Britain in 300 CE had been as Roman as any province in the empire, in the generations on either side of 400, urban life, the money economy, and the functioning state collapsed. Many of the most quotidian and fundamental elements of Roman-style material culture ceased to be manufactured. Skills related to iron and copper smelting, wooden board and plank making, stone quarrying, commercial butchery, horticulture, and tanning largely disappeared, as did the knowledge standing behind the production of wheel-thrown, kiln-fired pottery and building in stone. No other period in Britain's prehistory or history witnessed the loss of so many classes of once-common skills and objects. While the reasons for this breakdown remain unclear, it is indisputable the collapse was foundational in the making of a new world we characterize as early medieval.
The standard explanation for the emergence of the new-style material culture found in lowland Britain by the last quarter of the fifth century is that foreign objects were brought in by "Anglo-Saxon" settlers. Marshalling a wealth of archaeological evidence, Robin Fleming argues instead that not only Continental immigrants, but also the people whose ancestors had long lived in Britain built this new material world together from the ashes of the old, forging an identity that their descendants would eventually come to think of as English. As with most identities, she cautions, this was one rooted in neither birth nor blood, but historically constructed, and advanced and maintained over the generations by the shared material culture and practices that developed during and after Rome's withdrawal from Britain.